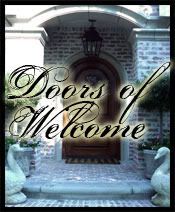 Hi Everyone! I'm joining in with Karen at
Some Days Are Diamonds
. She is having Doors of Welcome. This is the first part in a three part series. Go check out all the participants on her sidebar. What a way to get inspiration for fall.
It has been raining so much around here till it has been hard to get pictures. This is at night, but I think you can see inspirations of fall. I still have a couple of my summer flowers blooming out front too. They are doing so good, I hated to move them.
See the betina on the pot. I bought those new, and the green has already begun to grow to make them look like they have been there for years.
Now who could be scared of the smile on this scarecrow?
Or this one?
A flag to let everyone know they are welcomed.
I spray painted white pots black to make these, but they were still a little small, so my DH made these stands for a little more presence. From the road you can't even tell.
This is a simple wreath that I put together with just some leaves. But I have to say it does look like fall. I'm thinking of painting my door black. Any suggestions?
Well, thats my Door of Welcome! I will probably add a couple more pumpkins and mums, but I still believe it says welcome everyone. Be sure and check out
Some Days are Diamonds
over at Karen's.
Happy Fall, Debbie