This is my first Flaunt your Red hosted by
Nancy-Southern Lady.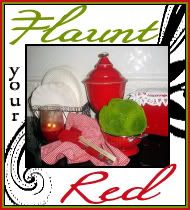 Go check out her blog for other Flaunt your Red and an awesome blog.
I've noticed a lot of us girls out here in blogland have roosters. Well, I am no exception, I love roosters. Here is my favorite that my mom gave me several years ago. It has a little red on it.
Next, this is the rooster lamp my hubby got me. Most of the time I just have to suggest that I want something, and he will do his best to get it for me.
Here are some more roosters on plates. They are surrounded by red.
Here is a close up of one....
Here is a cute little birdhouse that just had to be put in my decor....
This floor lamp, I am really proud of what I paid for this one. They still have it at Target for $69.99, got it at Dirt Cheap for....drum roll please..... $12.99. Still in the box and nothing wrong with it. Gotta love it..... also love the pillows on my chair. Love to use throw pillows anywhere.
Last but not least, here is a metal piece that hangs in my family room....the flash brightened it a little......
Well, I hope you enjoyed a little tour of my reds. Don't forget to check out Nancy's blog and more Flaunt your Red. Debbie